Projects
Stabilized Horse Trail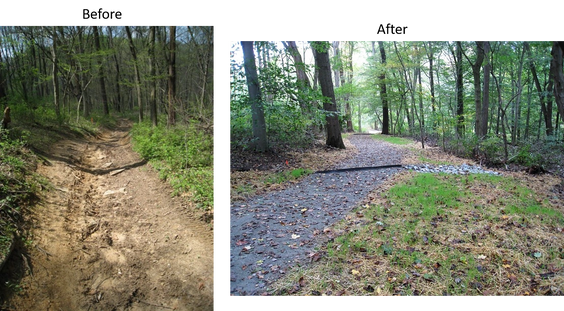 In the Spring 2017, Mowery Environmental was hired by a non-profit organization to repair a severely eroded horse trail close to their headquarters. The trail is mainly used by the local foxhunting club, but is also subject to mountain biking as well as day hikers. The trail begins at the edge of a stream and continues approximately 715 LF up a steep incline through the forest.
Mowery Environmental completed the site survey and then developed the engineered design. While taking into account the existing soil conditions, the topography, slope and trail users the final design included geotextile, 2A modified, stone dust, rubber diverters, and R4. The project was then put out to bid and a contractor was selected.
Construction began in late Summer 2017 and was completed in approximately 3 weeks. Mowery Environmental was fortunate to have benefited from excellent communication and cooperation between the landowner, contractor, local farmer, and the non-profit organization in order to make this project a success. The before and after photos speak for themselves and everyone involved was very pleased with the results.
Whole Farm Conservation on a Horse Farm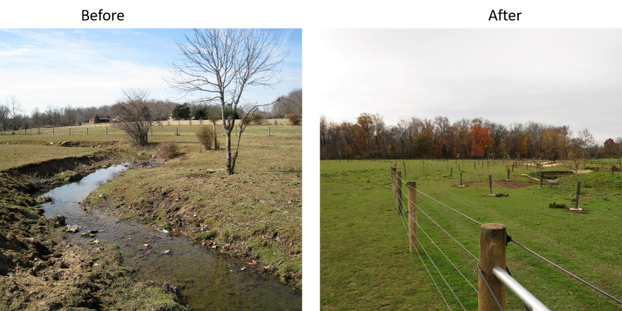 Through a lead from the County's Agricultural Land Preservation Program, Mowery Environmental was contacted to organize a whole farm conservation project on a horse farm. The owners of this property lease a portion of the farm to a lady who runs a horse boarding operation. On the site, there is a stream that runs through the pastures as well as a pond near the barn and house.
During the Conservation Planning process, a number of Best Management Practices (BMPs) were recommended in order to improve water and soil quality including: streambank fencing, riparian forest buffer, stream crossing, water access, grassed waterway, diversion, and heavy use area protection. After discussions with the landowners and operators, all parties agreed and Mowery Environmental proceeded in implementing the BMPs.
A site survey was completed in order to obtain the necessary information to complete the designs. Once the designs were finished, a General Permit 6 and 7 were obtained from the PA DEP. In early Fall 2017, construction began and after about 4 weeks the project commenced with the riparian forest buffer being the final component to be installed. Multiple funding sources were used in order to make this project a reality. A local watershed conservation association brought the most financial assistance to the table and the project would not have been possible without their commitment.